Lake St Claire, the deepest lake of Australia, with a maxium depth of 167m,

was our destination of this day.

Strahan? We've already skipped it as soon as we saw the pictures of Lake St Claire.

You know, women are always changing easily, huhhuh.



The reception had already closed as we arrived there.

And the room key was put in an envolope with name,

which was placed on the board at the door.

There were several envelopes there and we found ours.

'How could they just leave the keys like that?' I wondered.

Well, this was Tasmania, not Taiwan.

But it really impressed me.



This lake was surrounded by a kind of holy and serene atmosphere,

which made one feel like taking a deep breath

and so that the soul could get cleaned.

After putting the baggages in the room, I walked to the lakeside

watching the last rays of the sunset and its reflection on the surface of the lake.

Relentless wind rippled the water

and a ship berthing at the dock swayed with the waves gentlely.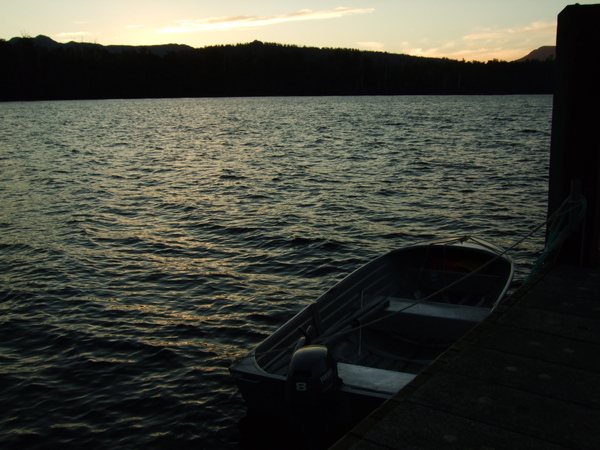 I felt myself was so small before it.

Maybe I shouldn't have walked here alone.

Maybe I was not welcome.

I ran to my fellow travelers,

they were just at another site opposite of this dock.

Seeing them made me feel more steady and sure.

We took some photos and then came back to the cabin for dinner.

There were also a few travelers in the kitchen,

and they were just chatting around the big heater.

I sized them up curiously, wondering what country they were from.

European, I guessed.



Karen talked with one guy of them while we were frying the cabbage.

Then we knew they were frequent traveler of Lake St Clair.

They said in October the cabin was sometimes covered with snow and

the lakeside would become a wholly white view.

It must be very beautiful.

But it was already chilly here in April.

I couldn't imagine what it would be like in that time.

All I could say was: to capture beauty you must pay something for it.

To stand for the freeze was one.



Let's go for the galaxy-watch.

Where would be the proper spot? They asked.

How about the dock by the lakeside? I proposed.

Then we drove there.

(Initially, I thought it's fine that we got there by walk.

But they disagreed with this idea.

'If you like walking, just go for it. We will drive and wait for you there.'

Well, walking alone in this time on this spot? I didn't think it's a good idea…

That's why I wrote the sentence" Then we drove there," haha.)



After parking the car,

we walked to the dock by the lakeside and sat on the deck.

The sky was cloudless and clear outside

Then I saw the most beautiful starry sky so far in my life.